6/17/2009
HP has always had a knack for knowing the requirements of different segments of users, minute enhancements always make all the difference in the overpopulated world of notebooks. Their Elitebook series, meant for the serious business person, has spawned again this time with juicier Centrino 2 interiors, and rugged exteriors, so let's see what it can do.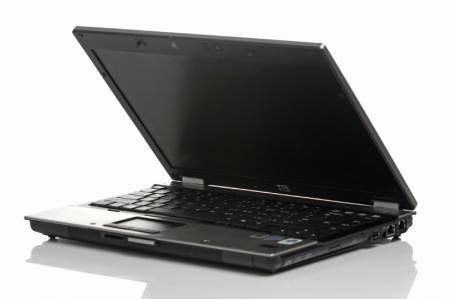 Form and build
Featuring a revamped chassis made of anodized aluminum, this piece looks the part right from the word go. And what part is that? Of a rugged commutable heavy duty laptop. It's obviously not fully military grade rugged, but HP claims that it does pass some MIL-STD 810F tests. The keys' surface is mildly matted to give good tactile feel.

The aluminum brushed surface extends inside too around the mouse pad, thus giving the aesthetics a 2 tone appearance, and these two colors, aluminum and matte black, is the best combination for anything that can compute.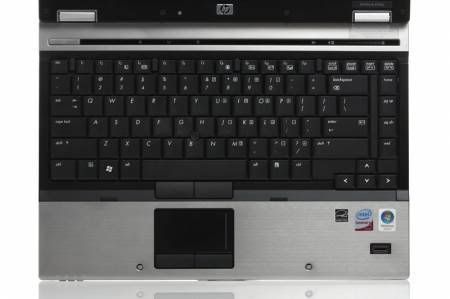 The touchpad is keyboard centralized, while size of shift, enter keys is normal. Overall key positioning and size is optimal, with a row of flush touch sensitive indicator/buttons for wireless, volume mute, volume control etc. on the top of the keyboard. Power button is slotted seamlessly into this row. The screen is slightly reflective here, but hinge quality is really very good, no lose movement of the screen is observed.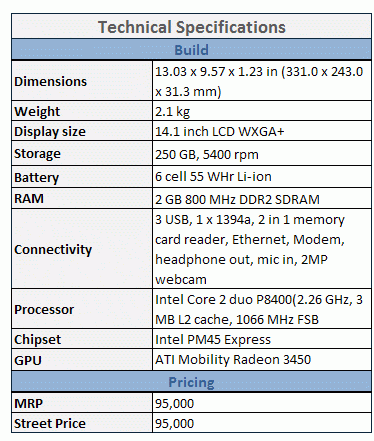 Plus, the screen folds out 180 degrees. There is a fingerprint sensor for security, a must for traveling business people. The pointing stick is contoured with a dotted surface to increase ergonomics, but while using it feels bit iffy, not perfectly in control. We will stick to the touchpad, which has a medium sized scroll zone.

Features and specs
Let's enumerate this Elitebook's features one by one, starting from the processor, which is a powerful one, a Centrino 2 tag holder - the Intel Core 2 duo P8400 (2.26 GHz, 3 MB L2 cache, 1066 MHz FSB). There is a model all the way up with the T9600 processor also, so according to requirements one can purchase whichever. The chipset is Mobile Intel PM45 Express.



Graphics is handled by ATI Mobility Radeon 3450, with 256 MB memory. There is no switchable graphics option here though. The RAM with this model bundled is 2 GB 800 MHz DDR2 SDRAM. The battery included is a 6-cell (55 WHr) Lithium-Ion ordeal, but can be upgraded to 8 cell units too. The HDD is a 250 GB, 5400 rpm model.


Sporting a satisfactory 14.1-inch screen at 1280 x 800 resolution, this is typical business presentation material. The connectivity options are 3 USB 2.0 ports, headphone out, mic in, VGA out (at the back) and more importantly we have a firewire (1394a) on the left, and Gigabit Ethernet port on the right with modem input just to it. There is a 2-in-1 memory card reader on the front. AC inlet is at the back. For wireless we have Bluetooth 2.0 and Wi-Fi 'N'. Last but not the least, a Lightscribe-enabled 8X DVD +/- RW writer is humbly included too.



Performance and battery
This potent mix of healthy specs and rugged looks can really pack a punch with its speed and smooth operation too. It scores really high on our benchmarks (not the highest we've seen though.)

Bundled with Vista Home Basic DVD, this gentleman does not sputter and whine, and boots up in 71 seconds. HP has thrown in utilities out of the box like QuickLook 2, SpareKey, HP Privacy Manager and HP File Sanitizer, each of which make things easier, but not really required. All these are optional in the HP included security suite, thus making the initial boot ups very clean and clutter free. There is no antivirus provided out of the box.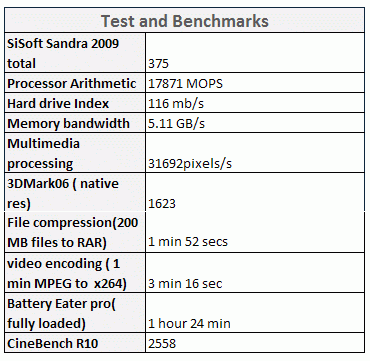 With normal usage, the battery lasted less than 3 hours 2 hours 54 min, and that Iis not so good. On a battery testing software like Battery Eater pro, it lasts only 1 hr 20 min. Thus we have a case of a hardcore CPU eating up all the power.

Conclusion
At Rs. 95,000, this laptop is a serious performer, with huge reliability aspects. But yet, value for money? Not so much. Because the battery is not so strong, at least in our model. You can however get an external battery of 6 cells for a slight cost, and this can last much longer. Small iffys like the pointing stick is indisciplined. Otherwise the ruggedness is not a farce, you can hit a corner and get away with it. The core processing also is in a way rugged, so those with business on their minds and easy access to a plugpoint at all times can surely go for this suave boardroom performer.