6/19/2009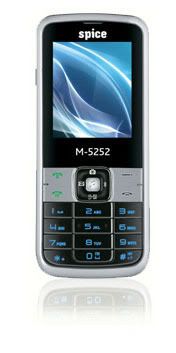 Spice Mobile has announced the launch of its new Spice M-5252 dual-GSM SIM handset, the company's first phone in its BIG series. The phone will be forming the budget multi SIM category in India, Spice said.

The M-5252 is a Dual-SIM (GSM+GSM) phone with dual standby which works as two different phone connections sans the dual handset bulk. It also offers a digital camera with which users can click pictures and make videos.

The phone sports a 2-inch 262 k TFT screen, dual speakers and dual LED torch. Unlike other phones in its price category, the M-5252 houses several multimedia features. It comes with an MP3 player which has a clever 'shake' feature for moving on to the next song.

The phone has a powerful FM antenna. Hence, also packed in the deal is a wireless FM radio which allows users to listen to the radio without plugging in headphones. Users can also schedule their favorite programs so that they don't miss it.
The phone also features something called Motion Games. Explaining the feature, Spice said that the motion sensor feature of M-5252 lets users play the game by just tilting the device. Further, there's also 'motion wallpaper' which allows users to change the wallpaper with just a flick of the hand.

It also features an expandable memory of upto 8GB, handsfree, Bluetooth, and is powered by a 1300mAH battery.

The Spice M-5252 dual-GSM SIM handset is priced at Rs. 3,499.