7/12/2009
Genius, a provider of PC peripherals, has introduced two new digital tablets for designers and artists. The EasyPen i405 and MousePen i608 are dual platform tablets that work on both PCs as well as Macs.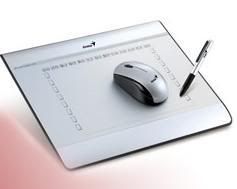 The EasyPen i405 comes in a form factor of 4" x 5.5" while the MousePen i608 has a larger 8" x 6" working area, accompanied by a cordless scroll mouse. The EasyPen i405 has 28 programmable 'hot-keys', while the MousePen i608 has 29, that allow you to access common office and Internet functions at the click of a button. The cordless pen features 1024-level pressure sensitivity and two clickable buttons for controlling shapes and thickness while drawing or writing.
Both tablets can be used to write, draw, sketch and/or sign documents -- thereby saving on paper. Users also have the ability to edit their photos, make comments, personalize documents, etc. Creative professionals as well as first timers can use the digital tablets for drawing, illustrations, digital paintings, etc. without spending too much money.
These Genius Tablets aren't available in India yet. We're awaiting price and availability information from the company. Watch this space for updates!